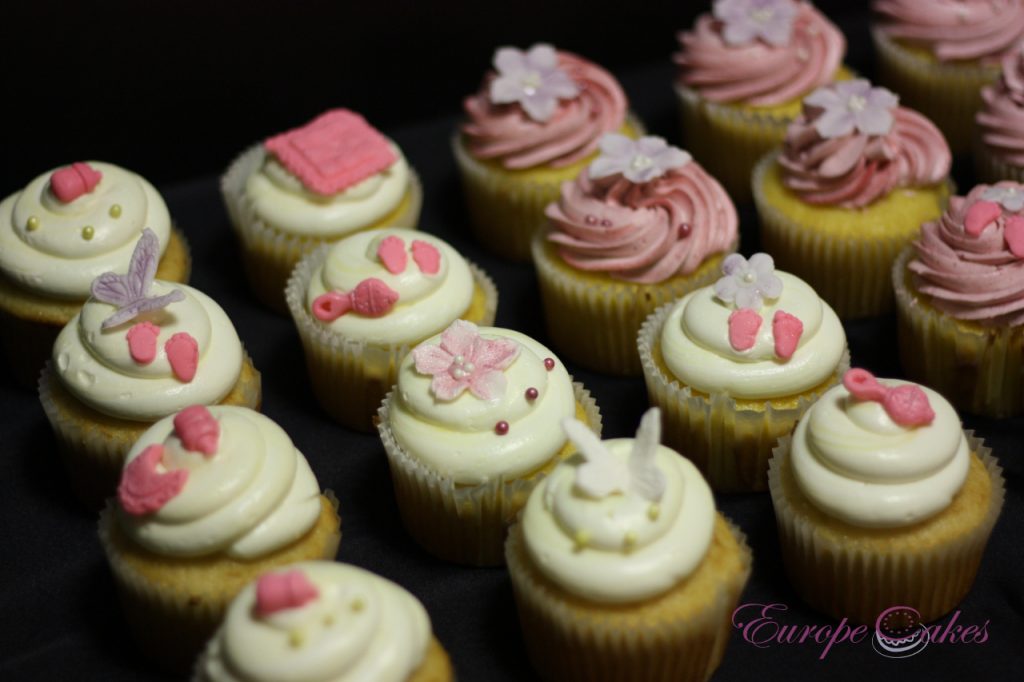 How much do you charge for wedding cakes?
Our pricing starts from $3 per slice and depends on the design and decorations you choose for your cake.
Please schedule a consultation with us and we will work with you to create a cake that fits your budget.
Do you offer cake or cupcake stands?
We offer a variety of cake stands for rent. In addition to the rental fee, we require a deposit that is refundable upon return.
Do your cupcakes contain nuts?
We do not use nuts in our cupcakes but we cannot guarantee that our cupcakes and sprinkles contain no traces of nuts.
When do you deliver for an event such as a wedding?
We can deliver and setup 2-3 hours before the event.
Do you charge for delivery?
Yes, we charge $30 for local delivery. For deliveries 20 miles and farther away from our store the fee will be $50 and up to $100 depending on the distance.
When are the cupcakes baked?
We bake everything fresh daily.
Do you have to preorder cupcakes?
If wanting 24 or more it is best to call us ahead of time to see what is available and place an order. We prefer a 24 hour notice if looking to order cupcakes that are on our current menu.
How far in advance do you have to place an order?
For cupcakes we like a day or two notice. For large orders a week is preferred. For cakes or other orders, we prefer at least a week on a large cake for 50+ people. During our busy season (May to October), we recommend you place an order 2 weeks in advance for any custom designs.
Do you make other baked goods?
Yes! We can make just about any baked treat with a little notice. Cookies, brownies, tarts, cannoli, biscotti, French macarons, etc.
Do you offer cake tastings?
No, but we offer a sampler box – ask for pricing.
Do you do custom decorations?
Yes, we also offer edible images and fondant decorations.
What payment methods do you accept?
We accept checks, cash and all major credit cards.
What is your Policy?
All food sales are final.
All payments are non-refundable and if cancelled, store credit can be issued by EuropeCakes Management.
Payment for Custom orders must be paid 2 weeks in advance.
Any cancellations must be made 2 weeks in advance and will result in a Store Credit ONLY.